Why is it that when you finally set your mind to buying something, you just can't find it! I'm working on a brand new space in our apartment that will be a little office for me to blog in, work from and in general just have 'my space.' We have a home office but it's basically become Bill's office and he's set up shop there. This will be my space!
I want to design the entire space in grays, yellows and maybe a hint of light blue. This will go with our comforter since the home office is in the open loft that is also our bedroom.
Bill is convinced that this whole project should be under $300 but it's been super hard! Here are the chairs that I like, some of which I'm considering. What do you think?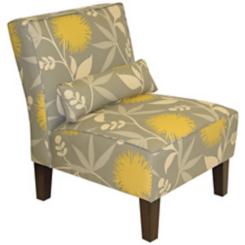 ($320 from Lamps Plus)
($240 and 250 from Target)
($200 from rando online store)
What do you all think? I think that the last, most affordable one could be really great looking, but it also may be less comfortable than the others. I also have to worry about the arms being too talk for the desk. I love this design (although I'm not sure I want this specific one from IKEA).
($150 from IKEA)