Welcome to the first of many holiday gift guides that I'll be sharing over the next few weeks. Each will feature gifts for that special someone at many price points, and some will even feature the chance to win one of those gifts!
Workaholic
The first gift guide is for that friend of yours who lives to work. She's never really not working and she often travels a lot on business. Gifts for this person can take a few different forms. You might want to give her items to help her work more efficiently, gifts that help her work space be a little more stylish or maybe items to help her relax when she leaves the office.
Stocking Stuffer (under $10): Booty shapers
Because these girls are always traveling, they will love gifts that help them when packing. Booty shapers are fun little inserts that you blow up and place in your boots. While they're great for in your closet (now I can finally get rid of those wine bottles!), I think they'd be even better for when traveling with your favorite leather boots.
I was given a pair to test and they really do work as expected! They're made of some pretty thick plastic so I don't see them popping anytime soon and they do a great job of holding up my heavy leather boots as they're sitting by my shoe rack.
Want to win these for you or that workaholic friend who could really need them? There's more info on the giveaway at the end of the post but be a good girl and keep reading to find out what your friend could use for the holidays!
Retail price: $12 on their website but I found them for $9.99 at CVS
Under $25: Office Calendar
Office calendars can be much more stylish than what you usually see in those mall kiosks. Skip the mall and check out Etsy for some great options, perfect to brighten any workaholic's long day in the office. This is my pick but there are lots of great options out there!
Retail price: varies by style but this set goes for only $13
Under $50: Business Card Holder
Every business woman needs to keep business cards with her, giving her another great place where she can show off her style. While there are plenty of boring, black leather options, I really like the metal ones with unique engraving. You can have it engraved just for her with a stylish monogram or buy one already engraved with a fun design.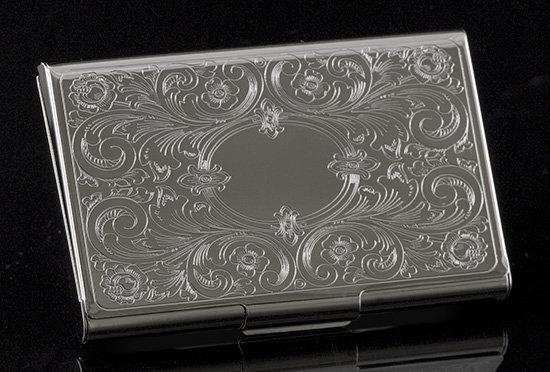 Retail price: anywhere from $20-50; this one retails at $25 already engraved
Under $100: A Great Coat
I love giving people great coats for holidays because it shows that you've taken the time to find one that you think fits their style and that you've made a bit of an investment for the gift. Plus, no one really enjoys dropping a bunch of money on outerwear for themselves. Now you might be thinking that under $100 sounds like a bit skimpy for a nice coat but with a bit of online price comparing, coupon code using and deal seeking, you can definitely find great coats under $100. Almost all of my winter coats were bought for less than $100 using those techniques.
I LOVE this jacket and would love if someone gave it to me for the holidays. The black is great and simple for work wear but the ruffles and details make it something more than you're average black trench.
Retail price: This coat goes for $94.99 on Bluefly but I'm sure it will get more affordable as winter comes nearer.
Dream Gift: Weekend Getaway Spa Package
If you have unlimited funds for that special friend of yours and really want to show how much you're in the holiday spirit, buying the two of you a weekend spa package at a swanky spa in your area is perfect! Check out the list of the best spas in the US or just find a recommended spa in your area.
For a more realistic version of this gift, spend the time to put together a DIY spa kit full of goodies for a pedicure, bubble bath and more. Put it all in a basket and add a bow and you'll give one of the most thoughtful gifts she'll receive this winter.
***************************************************************
Still want to win those Booty Shapers? Here's how you can enter:
You must: Comment on this post letting me know who you would give them to (it can be yourself!). (Worth one entry)
For additional entries (worth one bonus entry each):
You must enter your e-mail address so I can contact you to find out where to ship them.
That's it! The giveaway will be open until Monday, November 22nd at 11:59 p.m. EST.
Disclosure: I received a free sample of the Booty Shapers as part of this review. I received no other compensation for this post and the views expressed in this post are solely mine.
This giveaway is now closed. Thanks to all who entered!